Home Run Dads Workshop- Fathers Stepping Up to the Plate in Houston
Step up to the Plate!
Join us on Saturday, January 19, 2019 for a one-day workshop for fathers on better parenting, based on the program Home Run Dads developed by Dr. John Van Epp! Be the father you want to be, and learn skills to succeed as a loving and supportive parent.
Home Run Dads is a one-day workshop based on the Relationship Attachment Model (RAM). It is for all Dads who want to build closeness, respect, loyalty, and appreciation between themselves and their kids – Married Dads, Single Dads, Divorced Dads, Remarried Dads, and anyone who is a father figure in the home.
Bring Your "A" Game and Knock the Ball Out of the Park With Your Kids:


The Home Run Dads Workshop will help you be a better father in many ways:
Be a Dad who is willing to learn how to father
Know relationship fundamentals between dads and kids
Learn active listening & effectively talking with your child
Stay "in the know" with your kids by understanding who they are and their developmental stage
Practice positive coaching and managing emotional self-control and conflicts
Meet your child's most significant needs
Build a spirit of teamwork/plan with your spouse or co-parent
Learn from the past, commit to the future, and balance home and work
Show affection and see your children as all star
About the Home Run Dads Workshop:
Do you want to build a stronger connection with your kids, but aren't sure how? Home Run Dads teaches you, using the RAM, how to manage your relationship with your children and takes the guesswork out of how to build respect, teamwork, loyalty, appreciation between you and your kids. All of these lessons are taught in a way that speaks to men – through sports – where dads are the coaches and their kids are on their team. And if you don't like baseball or even sports, that's okay too… this workshop can still be really helpful to you and your family!
The workshop includes educational information, discussions, demonstrations and exercises. Jayna and Mike will guide you through activities that are fun, insightful and informative. And don't worry about sharing your personal problems in front of others: we don't do any group sharing at this workshop.
Structure of the Workshop
Mike and Jayna will lead you through the following items to help you be a better parent: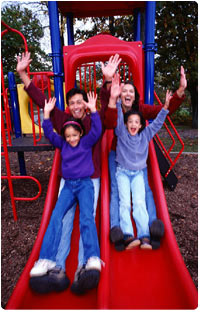 Team Talks – Learn how your relationship with your kids is like a sports team. Learn the rules of the game, coach and encourage your children, develop the right "chemistry" and create the right game plan for family success and team victory.
Team Sportsmanship – Find the best ways to communicate your personal and family values to your team, create and nurture the right relationship structures, and find the right relationships within your team. Learn the "EARS" method to give your kids a sense of structure in their lives.
Teamwork – Build a spirit of teamwork with your children and your spouse, partner, co-parent, or any other grownups involved in your family to meet your children's most significant needs and create great memories for your children. We will address all different kinds of families.
Team Commitment – Create the relationship with your children that you didn't have with your own parents – heal the wounds from your past and be the parent you were meant to be.
Team Spirit – Use handshakes, high-fives and fist bumps and many other healthy ways to show affection to your children regardless of age: don't lose the touch of the hand – and the heart – that shows your kids you love them.
About the Presenters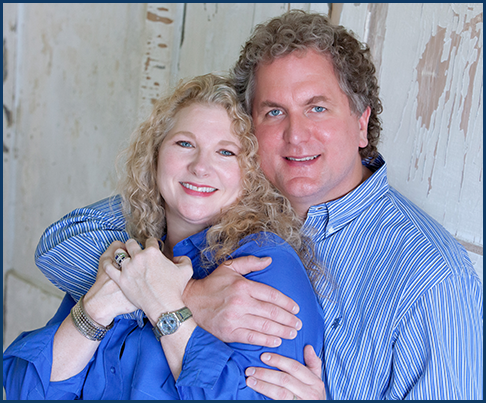 If you are looking for the perfect parents or people, you won't find them here.
What you will find are two people who've learned the hard way what to value and how to parent, regardless of life's interruptions. Jayna and Mike Haney married in 2001, each bringing two children from previous marriages of 11 and 8 years, respectively.
Having raised four kids and with nearly 40 years' of marital experience between them (!), they know exactly what it is like as married parents, single parents, stepparents, and in stepfamily life to experience the joy as well as the frustration, hopelessness, and fear that can hurt parenting styles and derail family structure
Jayna and Mike will guide you with their own combination of laughter, wisdom, and straight talk and provide demonstrations that share some of their personal "light bulb moments" about parenting and relationships. Mike and Jayna will leave you laughing, enlightened, hopeful, and more forgiving of yourself and your history as a parent, teaching you new skills to use right away and a path to move forward with your family.
Jayna and Mike have enjoyed educating and working with parents, couples and singles since 2002. They are trained and certified as Home Run Dads presenters. Jayna is an experienced coach and therapist, and Mike is an energy executive. They are looking forward to meeting you.
The workshop format provides benefits:
Encouragement to work on one's parenting values, skills, and understanding alongside other Dads doing the same thing
With busy schedules, it is easy to forget how important it is to keep learning about our kids
A class format encourages more active involvement and participation
Feeling supported to make changes for your family in ways that are healthy and healing for them and for you!
The Home Run Dads Workshop is not therapy. However, it can help you improve your relationship with your children, and if needed can also become a bridge into therapy for those who desire more personal assistance than the class can provide.
The class costs $159 but is $129 with Early Bird up until 2 weeks before class. There is also a choice of one payment or two payments split over time. Partial Scholarships are available.
Registration includes:
The Home Run Dads kit includes manual and other items
Light breakfast, beverages and snacks during the day
Lunch on your own – many local restaurants nearby
Register now for the Home Run Dads Workshop in Houston on one of the following dates:
These Workshops occur on a Saturday beginning at 8:30 am. The Workshop will end by 5:00 pm.
The Workshop is located just south of downtown Houston near the Texas Medical Center and NRG Center. Full logistics details will be provided upon registration.
Cancellation policy: We understand that these things happen. If you cancel up to 14 days before the event, we will refund the amount minus a $50 processing fee or we can credit the full amount toward any other workshop we offer up to a full year. If you cancel 13 days or less prior to the event, you can still get a full credit for another workshop up to a full year.